NEW Goodridge Performance & Motorsport Parts Catalogue
Goodridge Ltd, a global fluid transfer systems manufacturer supplying OEM, performance, motorsport and defence markets, has released a new Performance & Motorsport Product Catalogue.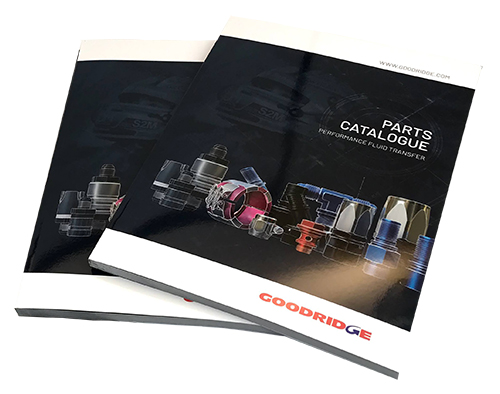 The new catalogue has been designed with the end user in mind; including enlarged imagery and a dedicated 'Quick Guide – Hose Chart', a useful source of information when selecting a suitable plumbing solution. In addition, product range introductions have been added to each chapter with additional notes on fitting/hose compatibility and 'top tips' throughout the catalogue.
New additions have been made to the following sections:
– G-Line Ultra (NEW AN-06 hose & fittings range)
– 600 series (NEW swivel fittings)
– Wiggins / Hydraflow
– Build-A-line
– Ancillary (Inc pre-heaters)
A case study, engineering & mobile workshop section has been added to explain how Goodridge can design and manufacture bespoke parts or visit customers on site, if required.
To view online or download as PDF, please visit www.goodridge.com or click here.
Goodridge, founded in 1969, celebrated its fiftieth anniversary in 2019, supplying fluid transfer systems across the globe.
Headquartered in the UK, Goodridge operates out of ten manufacturing facilities throughout Europe, Asia and the Americas; supplying OEM automotive, EV, performance, motorsport, marine and defence markets.
For high resolution images or more information, please contact:
James Harbottle
Marketing Coordinator
Goodridge Ltd
Tel: +44 7785 341 099
Email: James.harbottle@goodridge.com
www.goodridge.com
20th November 2020