M-Sport Support to Benefit Active Pursuits in the Local Community
As the Aviva Tour of Britain rolled into Cumbria, M-Sport was out in force – supporting the region as well as all who embarked on a gruelling 134.3 kilometres from Cockermouth to Kelso.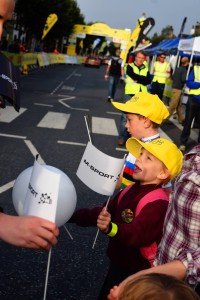 The route marked the third stage of the tour and M-Sport proudly sponsored the official start town of Cockermouth – a picturesque town on the edge of the English Lake District from where the team's flourishing motorsport business is based.
M-Sport also used the event as an opportunity to reveal additional plans for a new initiative which aims to engage the local community in a number of active pursuits.
The company is currently in the process of finalising plans for a new, state-of-the-art evaluation centre at its Dovenby Hall site. The new development will see the facility more than double in size and incorporates a 2.5 kilometre test track which will create a class-leading research, development and manufacturing facility in the north of England.
Subject to the completion of the planning process, M-Sport also plans to open the gates of its evaluation centre once a week during the summer months – welcoming members of the local community to benefit from the use of this unique facility.
Local cyclists and runners of all ages and ability will be invited to make use of the test track for recreation and training purposes in a safe and secure environment.
M-Sport Managing Director, Malcolm Wilson OBE, said:
"We're delighted to show our support of Cockermouth and the local community by helping to support the arrival of such a fantastic sporting event to the region. The Tour of Britain provides a great spectacle and I am sure that the sight of some of cycling's most impressive talents will inspire many to take up the sport at both a professional and recreational level.
"To that end, it is our intention to offer the use of our evaluation centre to the local community upon completion. Subject to the finalisation of the planning process, we intend to welcome cyclists and runners – of all ages and ability – to make use of the facility once a week during the summer months.
"The state-of-the-art research and development test track will provide a safe and secure area to train, and we hope this will encourage more locals to take an interest in such active pursuits."
10th September 2015