Hyundai Motorsport i30 N TCR – Case Study
A closer look at the Goodridge plumbed 2018 TCR championship winner – the Hyundai i30 N TCR.
Established in 2012, located in Alzenau, near Hyundai Europe's base in Offenbach, you will find Hyundai Motorsport Gmbh world headquarters.
Hyundai began building a World Rally Car in 2013, based on the i20 chassis. It didn't take long before the team put the i20 WRC on the podium, that coming with third place in Rally Mexico before claiming a first WRC win at Rallye Deutschland.
Established as front runner in the WRC the team founded their Customer Racing department in 2015. The new program began with the i20 R5 rally car, which made a competitive debut in September 2016. At the same time Hyundai began design work on a new project, the i30 N TCR, to compete in the TCR category.
The Hyundai i30 N TCR
The i30 N TCR, based on the road going i30 chassis, marked the second customer motorsport project for Hyundai and their first move into circuit racing.
Built to compete in the TCR series, the car needed to be front wheel drive, using a turbo charged engine with displacement between 1600-2000CC, maximum power output 350BHP.
The finished project utilises a transverse mounted two-litre turbocharged engine, connected to a six-speed sequential gearbox and limited slip differential. Braking is taken care of using Brembo six piston monobloc brake calipers with 380mm brake discs on the front and two piston monobloc calipers 278mm ventilated discs on the rear, all working in conjunction with spherical bearing-mounted Brembo master cylinders.
Where do Goodridge fit into the project?
Established in 1969, Goodridge are a fluid transfer systems manufacturer, specialising in 'design & build' projects, accompanied by a range of catalogued fluid transfer solutions for Motorsport, Performance and niche OEM, automotive and motorcycle markets.
The Hyundai i30 N TCR fell right into Goodridge's specialist remit, supplying fluid transfer assemblies for the following systems on a 'build from spec' basis, accompanied by a range of Goodridge 'catalogue' product.
Braking system
Clutch system
Fuel system
Air jack system
Braking and clutch system
The braking system utilises Goodridge 836 stainless steel hard line, CNC machine formed to Hyundai Motorsport Customer Racing's specifications. In conjunction with this, Goodridge 600 series PTFE lined stainless steel braided hose and 600 series crimp fittings are assembled, crimped and pressure tested prior to being fitted to the vehicle.
Fuel system
The fuel system uses Goodridge G-Line XF 910 hose, in conjunction with Goodridge 711 series aluminum crimp fittings. G-Line XF 910 hose is one of Goodridge's flagship products, featuring a smooth bore PTFE liner with convoluted exterior, wrapped in an aramid fibre braid. The hose is light weight, capable of handling a tight bend radius and is safe to run 'in cockpit' – the perfect choice for this project.
Air jack system
The air jack system, standard equipment in the TCR series, uses Goodridge 836 Polyamide coated Hycot™ aluminium hard line, again CNC machined at Goodridge HQ in the UK. The hard line is fitted with Goodridge 836 re-usable aluminium fittings; these are light weight and do not require the tube to be flared.
The result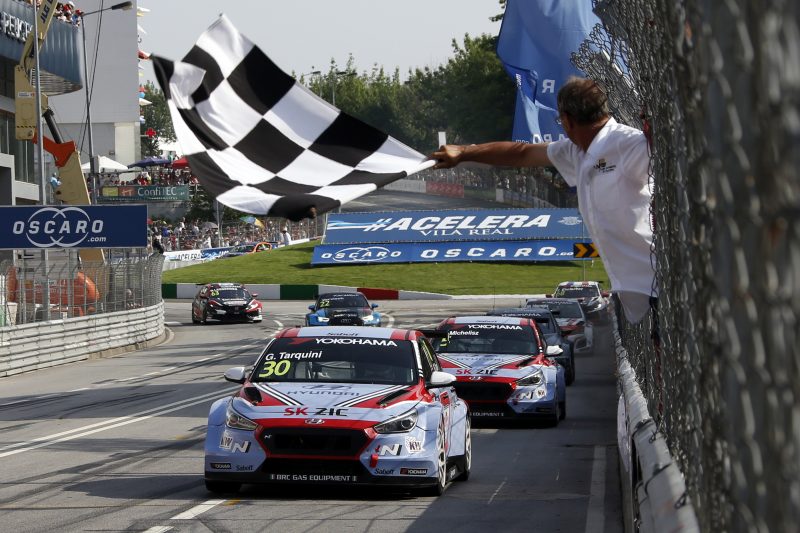 Goodridge has provided a bespoke, functional, light weight and reliable plumbing solution that has played a part in the i30 N TCR's victory in the 2018 WTCR, with Hyundai customers winning both the teams' and drivers' titles in the 2018 series.
Goodridge are incredibly proud to have been a part of this project, using 50 years of experience and input from our global network; this is the perfect example of working in conjunction with a motorsport team to achieve a fantastic result, for both parties.
26th February 2019