Goodridge announces sponsorship of PBM Visiontrack Ducati, for 2020 season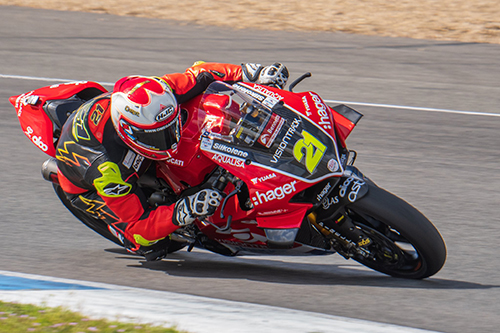 Goodridge is pleased to announce a sponsorship agreement with Paul Bird Motorsport Visiontrack Ducati for the 2020 British Super Bike season.
Historically, PBM have enjoyed much success on both two and four wheels; making the team an ideal partner for Goodridge.
The team will run two Ducati Panigale V4 R's in the 2020 British Superbikes, ridden by Josh Brookes and Christian Iddon.
So far, the 2020 season has already got off to a good start for PBM, both riders posting promising times in the Spanish BSB test; Josh Brookes topping the leaderboard.
The final test takes place at Siverstone on the 1st and 2nd of April; the BSB season will then commence with the first race weekend at Silverstone on the 10th and 12th of April.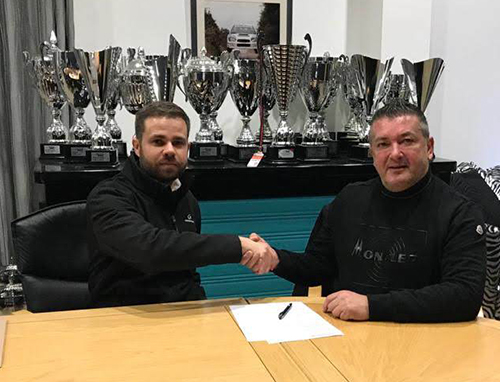 Goodridge Marketing Coordinator, James Harbottle, commented:
'PBM Visiontrack Ducati make the perfect partner for Goodridge; we wish the team and riders the utmost success in the coming year'
PBM Team Manager, John Mowatt, said:
'We are pleased to have Goodridge on board for the 2020 season and look forward to a productive relationship going forward'
Headquartered in the UK, Goodridge operates from eleven manufacturing facilities throughout Europe, Asia and the Americas; supplying fluid transfer systems to OEM automotive, EV, performance, motorsport, marine and defence markets. Goodridge celebrated its 50th anniversary milestone in 2019.
Image 1: Christian Iddon (PBM Visiontrack Ducati V4 R)
Image 2: James Harbottle (Marketing Coordinator) & Paul Bird (Proprietor – Paul Bird Motorsport)
For high resolution images or more information, please contact:
James Harbottle
Marketing Coordinator
Goodridge Ltd
Tel: +44 7785 341 099
Email: James.harbottle@goodridge.com
www.goodridge.com

Notes:
Goodridge Ltd
goodridge.com
Founded in 1969, Goodridge has developed from a single seat race team in Canada, to be the world's leading manufacturer of performance fluid transfer systems. It operates in the OEM, automotive, motorcycle, motorsport, defence and specialist industrial sectors. This dynamic private company now manufactures in twelve facilities globally and supplies customers around the world with a unique combination of design, innovation, reliability and outstanding service. Goodridge operates globally with manufacturing and distribution operations in the UK, USA, Mexico and Europe, employing more than 400 people worldwide.
Goodridge was founded by Stuart Goodridge in Totnes in 1969. Following his return from a successful racing career in Canada, Stuart began assembling and selling aerospace fluid transfer components to motorsport race teams. The company remained housed in a listed building on Collins Road, Totnes, until 1988 when the company purchased and developed a site on the Exeter Airport Business Park. In the same year, plants were opened in France, Germany, Spain, Holland, Mexico, and two in the USA.
The airport site was developed and repeatedly extended over 28 years, passing the company's 40th anniversary. In 2012, Otter Court was acquired on Marsh Barton Trading Estate, to accommodate plans for vertical integration and focus on delivering cost improvements to the business and customers.
Since Goodridge's acquisition by Rubicon Partners in 2013, uniting the company under one roof has been a high priority. With £3m of investment in the company since 2013, in July 2016 Goodridge's UK operations merged at the Dart Building on Exeter Business Park, bringing 148 of the group's then 370 staff together.
Goodridge acquired Gieffe Racing, an Italian motorsports distributor in 2018, followed by the acquisition of Kuhnle Engineering, a fluid transfer systems manufacturer based in Germany, in early 2019.
Goodridge celebrated its 50th anniversary last year.
Rubicon Partners
rubiconpartners.com
Rubicon Partners is a hands-on investment partnership focused on the acquisition of industrial businesses in Europe and North America.
Over the past 20 years Rubicon Partners have acquired 60 businesses across the manufacturing, distribution and service sectors, ranging in value from £15m to £250m. They create value by addressing operational and strategic issues.
Rubicon Partners' focus is on complexity, both within individual companies as well as groups of businesses or portfolios. They have extensive experience in acquiring from private family ownership, management, corporates and private equity funds.
Rubicon Partners have the ability to add value to business over a longer time period than traditional private equity. Their structure is that of an industrial holding company backed by long-term private capital. Rubicon Partners' experience and expertise enable them to work with management to grow companies to their full potential over the long term, establishing systems for rigorous financial and operational control and providing a framework for comprehensive and strategic planning and implementation.
Rubicon Partners operates across offices in London, Munich and Shanghai with a team of 15 professionals.
16th March 2020