Goodridge celebrates 50 year anniversary
We are pleased to announce that Goodridge is celebrating it's 50 year anniversary.
Goodridge was founded by Stuart Goodridge in Totnes, Devon (UK) in 1969.
Following Stuart's return from a successful racing career in Canada, he began importing, assembling and selling aerospace fluid transfer components to motorsport race teams.
At the ripe old age of 28, Stuart began supplying Formula One teams with Aeroquip fuel and brake lines. The hose, originally made for American fighter aircraft during World War 2, proved to be an almost instant winner.
In 1975 Stuart attended the National Racing Car Show at Olympia, printing 500 brochures on the new brake line product; It turned out he had to get another 1500 printed to satisfy demand!  Stuart's stand proved to be one of the busiest at the entire show.
Business then increased by five times, with sales climbing rapidly, Stuart began exporting product to 23 different countries.
The product mainly consisted of application specific brake line kits, made from the Aeroquip hose as a 'bolt on' product to suit specific vehicles. Goodridge was the first company in the UK to bring kits to market that fitted British and continental thread sizes.
But the success didn't stop there, Goodridge started selling into the motorsport market, supplying names in formula racing such as March, Brabham, Pensk (USA), Lotus and Lola.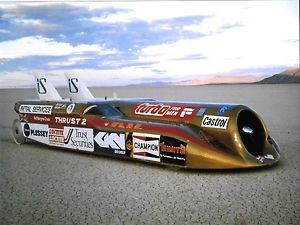 Stuart then began to pull away from aerospace-based products, supplemented by his own product, focusing on saving weight and improving quality. From the mid 70's to mid 80's, every Formula 1 world champion used Goodridge hose and fittings.
Next came involvement in the Thrust 2 project, supplying hose assemblies for fuel, cooling and braking systems. Thrust 2 broke the land speed record in 1983 at 633mph, adding further credibility to Goodridge's reputation. (Pictured)
In 1984, Goodridge France opened it's doors, providing solutions to performance, motorsport and original equipment manufacturer customers; closely followed by Goodridge Spain and Goodridge Benelux in 1987.
The UK premises remained housed in a listed building on Collins Road, Totnes (Pictured), until 1988 when the company purchased and developed a site on the Exeter Airport Business Park. (Pictured)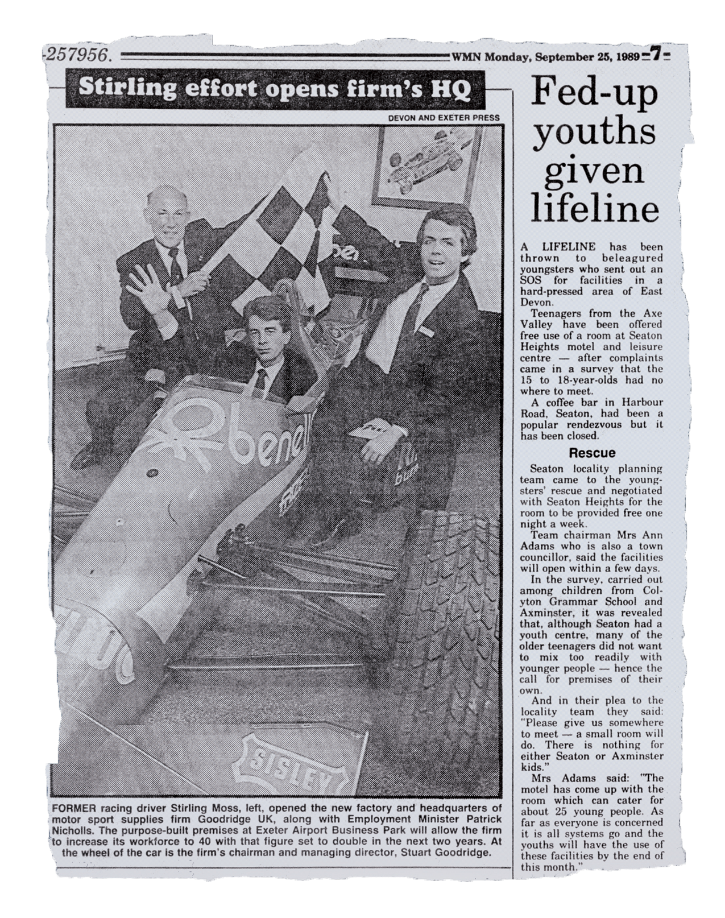 The airport site was opened by Sir Stirling Moss (Pictured), which became Goodridge worldwide HQ. (Driver – Stuart Goodridge)
Goodridge Ltd UK now employed 40 people, with plans to double the headcount in the next two years.
As the Goodridge success story continued, two sites opened in the USA (Goodridge Mooresville and Goodridge Torrance), to deal with Performance and Motorsport business, supplying brake line kits to the aftermarket.
The company enjoyed further success as the Goodridge plumbed 555 Subaru Impreza driven by Colin McRae MBE, won the 1995 World Rally Championship. (Pictured)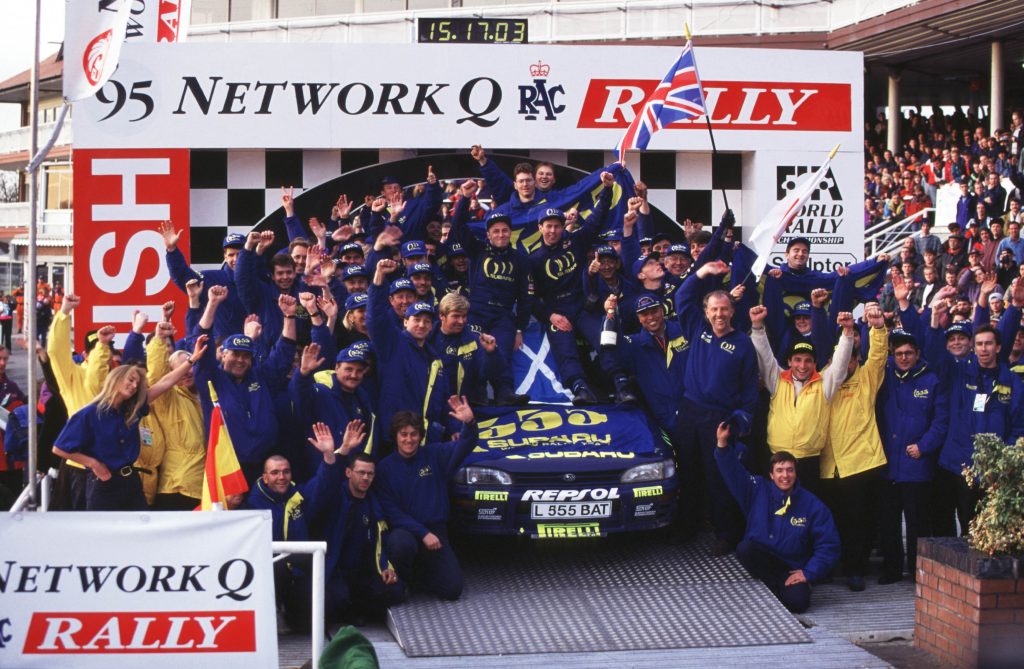 From 1996-2005, Goodridge Germany and Goodridge Mexico (OEM production facility) were added to the group.
Customers  now included well recognised OEM's such as Bentley, Rolls Royce, Aston Martin and Mitsubishi.
The business continued to grow, the Exeter airport site was developed and repeatedly extended over 28 years, passing the company's 40th anniversary.
(Pictured – 40th anniversary celebrations – Trudi Goodridge, Sir Stirling Moss and Stuart Goodridge).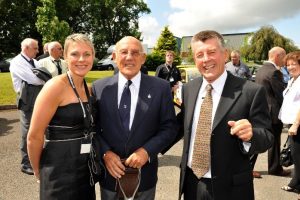 It was January 2011 that Stuart Goodridge sadly passed away, from a motor neuron disease condition. Leaving the business to his family.
In 2013 the business was acquired by Rubicon Grovepoint Industries. Under new ownership, the decision was made in 2016 to relocate to the Dart Building on Exeter Business park, uniting the Otter Court premises and Airport premises under one roof. (Pictured)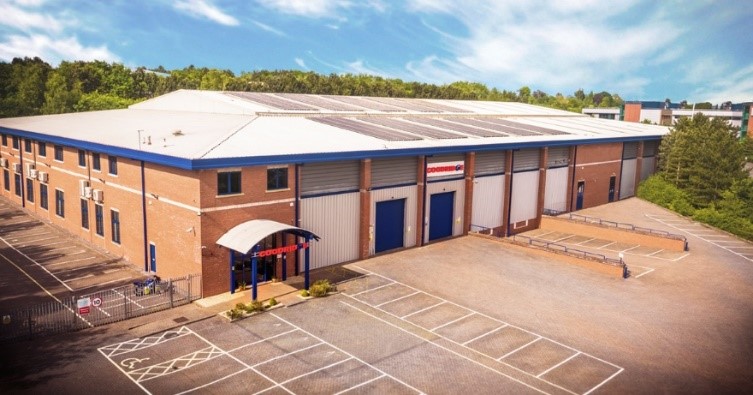 Goodridge has since added two more companies to the group, Gieffe Racing, acquired in 2017, an Italian Motorsports Distributors and Kuhnle Engineering, a German Fluid Transfer Specialist company, supplying Motorsport and special vehicle operation OEM projects.
More recent OEM projects we can disclose include supplying product for the Ford GT, Jaguar Project 8 and BMW GS 1200 motorcycle.
In Europe and the America's, Goodridge is now working with EV and autonomous vehicle markets to provide cooling and brake system assemblies, in addition to defence based projects.
Goodridge motorsport continues supply leading teams in F1, WRC, WEC, WTCR, Moto GP, BTCC, BSB and more!
The Goodridge Group now has a global headcount of over 400 employees, spread across eleven facilities based in Europe, USA, Mexico and Japan.
Goodridge continues to thrive and expand, we are excited about what the future holds.
16th July 2019