Goodridge Acquires Italian Company, Gieffe Racing
Exeter based Goodridge Ltd, a world leader in fluid transfer systems is pleased to announce the acquisition of Italian based company, Gieffe Racing.
Gieffe Racing is a Motorsport product and service supplier based just outside Milan, Italy; the perfect opportunity for Goodridge to strengthen its position in the growing Italian motorsports market whilst welcoming a well-established brand to the group.
Exeter based Goodridge, currently work with the largest top marque OE car, motorcycle and defence based manufacturers, accompanied by an extensive performance aftermarket and motorsport portfolio supplying systems to championship winning teams worldwide.
Having established Goodridge Japan in early 2017, Gieffe will be the 10th addition to Goodridge Ltd's growing list of subsidiary businesses. With its head office in Exeter, and having subsidiaries in the USA (both West and East coast), Mexico, Germany, France, Netherlands, Spain, Japan and now Italy.
Goodridge however are not the only Exeter based outfit to be utilising Italian flair to strengthen their position, Goodridge sponsored, Exeter Chiefs signed Michele Campagnaro in 2015, proving very successful and helping the club to lift the Aviva Premiership title in the 2016/2017 season, a great milestone for the club and the city alike.
Goodridge Chief Executive, Jon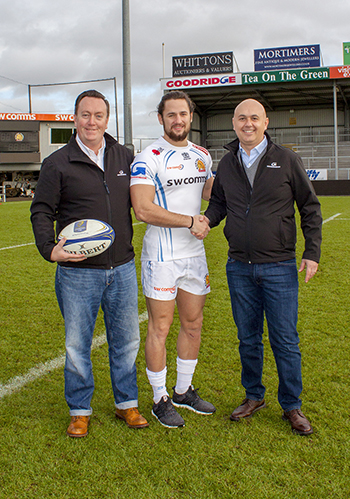 Hourihan said, "The year has been good for the company, the success of our Japanese set-up from the start of the year, and the acquisition of Gieffe and the staff within it, at the end of the year gives us a firm footing for the future. Goodridge were used to punching above their weight on a global scale, and to strengthen the team, and make the success sustainable is a great position to be in, as our 50th year approaches. All things adapt to move forward, and there are great things ahead by having some Italian flair added to our ranks."
Gieffe General Manager, Damiano LoGiudice said, "For 40 years Gieffe Racing has been a proud partner of Goodridge. Our founders Mauro Ghislieri and Stuart Goodridge had been good friends and were excellent business partners. Being acquired is a natural development of their idea. It allows Goodridge direct access to the Italian market and give Gieffe Racing, the strength of being part of a multinational group. (Making a comparison with rugby, the team now have a world class Italian member in a team built to win international matches").
Picture 1: Gieffe Racing Headquarters, Italy
Picture 2: From left to right, Jon Hourihan (Goodridge), Michele Campagnaro (Exeter Chiefs) & Damiano LoGiudice (Gieffe Racing).
For more information please contact:
James Harbottle – Marketing Coordinator
Goodridge Ltd
Tel: 07785341099
Email: James.harbottle@goodridge.com
www.goodridge.com
5th January 2018