EVANS SALVAGES SIXTH ON HOME SOIL
M-Sport World Rally Team's Elfyn Evans salvaged sixth place from this weekend's Wales Rally GB as the team's home event dished out its fair share of misfortune.
As torrential rain and gale force winds battered the stages, Evans and co-driver Daniel Barritt got the Welsh fixture off to a solid start. Best of the rest behind the leading pack, the pairing were making ground despite their limited experience.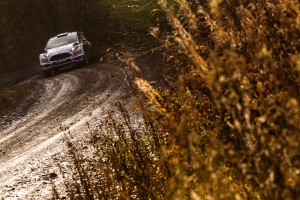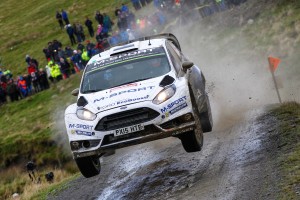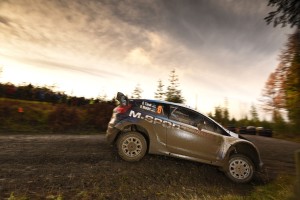 Unfortunately, a puncture put paid to a push for the top positions – the Ford Fiesta RS WRC crew losing almost a minute and a half through the second pass of Hafren (SS4) which dropped them to an undeserving ninth place.
Regrouping, the local hero displayed an improvement in pace and stormed up the standings. Setting the fastest time through the second split of SS10, Evans also proved how formidable he can be when the going gets tough – setting the second fastest time through the night pass of Aberhirnant (SS11).
With little to fight for over the remaining 36.43 kilometres, the Welshman consolidated his position in the knowledge that a strong top-four finish would have been secured were it not for his earlier puncture.
In the sister M-Sport Fiesta RS WRC, Tänak struggled with set-up through the opening day, but was back on form having altered the settings through yesterday's stages. Kings of the castle, he and co-driver Raigo Mõlder set the fastest time through a fan-packed Chirk Castle (SS13) and climbed into fourth position going into today's final speed tests.
Unfortunately, Tänak became another victim of the conditions. Running slightly wide through the first pass of Brenig (SS16), he hit a stray rock and broke a bracket on the wishbone of his Fiesta – bringing his season to an untimely end and robbing him of a solid result on the team's home soil.
Elfyn Evans (6th) said:
"Overall I think we have performed quite strongly this weekend. Without the puncture it would have been a really comfortable fourth place but we all know that rallying is a game of ifs and buts.
"The conditions made for a particularly difficult rally but that is what makes this event so special and I was pretty pleased with our performance over the first couple of days. We worked really hard to improve our gravel performance ahead of this one and we were there or there abouts and best of the rest after the leading pack.
"I also have to say a huge thanks to all of the spectators and marshals who braved the elements this weekend. The support that we received was incredible so a big thanks to them.
"Everyone keeps asking me if I have done enough to be here next year and I would like to think that I have. At the start of the season we were going really well and were as high as fourth in the championship at one point.
"Unfortunately when we got the new car I just didn't quite get to grips with her. It's taken until now for me to feel comfortable on gravel but I feel as though we have made a big step forward and want to continue that progression into next year.
"I think that our potential is there. We have learnt a lot over the last 12 months and it would be a shame not to put all of that to good use next season.
Ott Tänak (DNF) said:
"It's hard to explain what happened. It wasn't a proper off. The left wheel was just slightly off line and there was a rock which broke a bracket on the wishbone. It was as easy as that – hardly any damage but enough to end our rally.
"There are still many positives that I will take away from this season. Since Sardinia we have always had the pace to fight for the podium on gravel. Things haven't always gone to plan, but for our first year in a manufacturer team we wanted to prove that we had the speed to challenge at the top.
"This is a sport where experience is really important. If you want to carry that speed throughout the weekend you need the experience and that is what we have been building this year."
Team Principal, Malcolm Wilson OBE, said:
"We were hoping to challenge for the podium this weekend but unfortunately that wasn't to be. Our home event has been a lot like our season. We have seen some great speed from both Elfyn and Ott, but unfortunately we've just been lacking the consistency to maintain that pace over the course of a full weekend.
"Were it not for his puncture on the first day, Elfyn would have secured a strong fourth place and we've seen another improvement from him on gravel. Ott then had the fourth place in his grasp but he was unlucky this morning – running slightly wide and hitting a rock which put an end to his rally.
"I've made no decision on who will be driving for us next season. I can say that I will be taking my time to analyse all of the performances – those of Elfyn, Ott and a few others – so that we can be in the strongest possible position going into 2016."
17th November 2015