Aston Martin wins GT Asia Series
The Aston Martin V12 Vantage GT3 wins the GT Asia Series
Asian partner team Craft-Bamboo Racing winners of the final race
Darryl OYoung scoops the drivers trophy
Aston Martin Racings Asian partner team Craft-Bamboo Racing has won the 2015 GT Asia Series with its V12 Vantage GT3 and driver Darryl OYoung (HK) after a strong season that ended with a race win in Thailand, yesterday.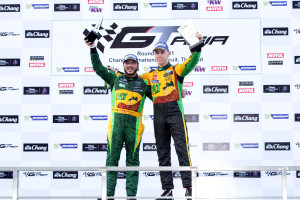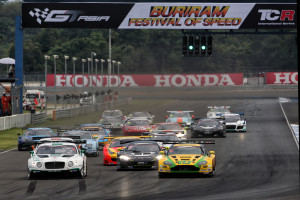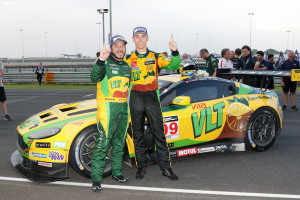 Going into the final round of the 12-race series, at the Buriram International Circuit in Thailand, the Craft-Bamboo Racing team was level on points with rivals Absolute Racing. In the nail-biting one-hour long finale, Daniel Lloyd (GB) took the early lead before handing over to OYoung who defended from the competition to cross the line in first place.
"It feels strange taking this championship for myself because it was a partnership with Jonathan Venter and Daniel Lloyd, commented OYoung. They deserve it just as much as I do, so they are both champions. I am really happy with Craft-Bamboo Racing; everybody has done a phenomenal job, especially at crunch time. It is such a team effort and so much went into this championship.
23-year old Lloyd joined the team mid-season after a cycling accident saw team-regular and fellow Aston Martin Evolution Academy driver Jonathan Venter (AU) signed-off from racing while recovering from a broken hip.
Today has been awesome, I am really grateful for the opportunity Craft-Bamboo Racing has given me. I am really pleased to work together with Darryl to help them towards the championship. I had a great start and Darryl had a great stint so Im over the moon that it all came together.
This is the second major championship title of 2015 for the Aston Martin V12 Vantage GT3, which won the British GT Championship with Beechdean AMR. In addition, it was runner-up in the GTD class of the Tudor United Sportscar Championship in America with TRG-AMR.
Its been another fantastic season for the Vantage GT3 and Aston Martin Racings customer teams, commented Aston Martin Racings team principal John Gaw. We have some of the top teams in the world running our cars and this is reflected in the results we are achieving.
Its also clear that our Evolution Academy programme is supporting the top talent in the world. Of our ten 2015 drivers, five have won international GT titles and that is impressive. Congratulations to Jonathan [Venter] and Dan [Lloyd] and all at Craft-Bamboo Racing from everyone at Aston Martin Racing.
Craft-Bamboo Racing next races its Vantage GT3s in the GT World Cup at Macau in November. Three cars will be entered and OYoung will be joined by Richard Lyons (GB) and Aston Martin Racing works driver Stefan Mücke (DE).
27th October 2015